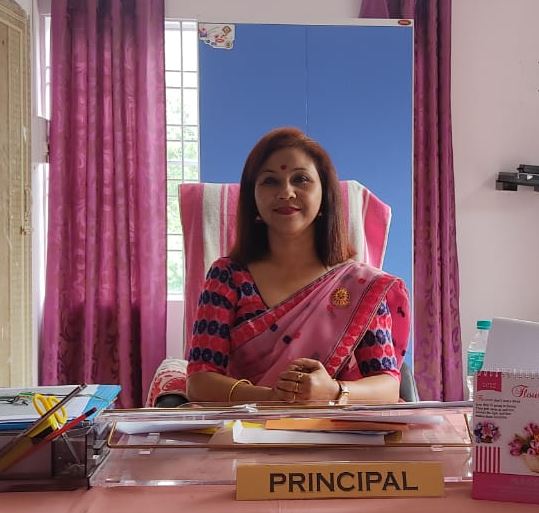 It gives me great pleasure to invite you to take an initial peek into the heart that beats behind the appealing façade of Ujani Majuli Kherkatia College. I thank you for your interest in this exceptional institution which has recorded five decades of constant development, in the course of which it has accomplished much, making it one of the colleges recognized for its excellence and therefore, much sought after by the fresh applicants.
Teaching profession concerns not simply with passing on information or knowledge but with awakening a desire to learn and provide means of learning. Teaching is never tedious. It is full of change and variety. Teachers stimulate intellectual curiosity and inculcate the spirit of enquiry, of a national and scientific outlook. But to know is not enough. If there is desire to share the knowledge, then it is also essential to know how to do it. The essence of all good teaching is growth, so that the teacher shall keep abreast not only of the growing students, but of changing ideas in his subject in a changing world. For this, one should remain interested and involved in exploring all the methods of communication A really educated man with integrated personality is bound to be good and he enjoys unbounded capacity for doing well. His noble sentiments and his highly awakened intelligence bless him with a rare fervor which leads him on the path of virtue. The greatest virtue in man is to be good and to do well and to do good boldly to all friends and foes alike.
The Ujani Majuli Kherkatia College tradition happily brings together sound academic achievement with an extensive, vibrant co-curricular programme that includes sports, and leadership training programmes. Our mission is to inculcate the love of knowledge in our students and, for this; we aim to develop the skills and demeanour of lifelong 'learning,' essential for making responsible global citizens. This will make them immensely capable of facing the future with resilience and optimism. On the deeper level, we try to instill the values of respect and trust in relationships that are the foundation of real success.
At Ujani Majuli Kherkatia then, we believe that 'education' is a wholesome, holistic exercise and as such we strive to give a whole new meaning to the word. Coupling this basic premise with the idea of a sense of belonging to one family "the U.M.K. College family" we look at ourselves as 'care-givers.' We care for the mind ours is a sterling academic institution; we care for the person—the accent is on the all-round development of personality. The healthy environs, rich culture ambiance, disciplined way of functioning equip to bring the best out our learners and enable them to face the hardships of life and its challenges that come in their path, confidently. I welcome you all on joining this prestigious institution. May I take this opportunity to thank all of you for becoming our partners in education, for joining our journey in inspiring lives and realizing dreams.
Dr. Jahnabee Lahkar Boruah,
Principal, U.M.K. College, Majuli